About me
I am a Yorkshire based artist interested in exploring the connections between historic and contemporary cultures.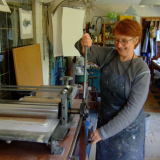 My practice is frequently social, encouraging other people to contribute to the creative process by sharing their stories as well as actively making art themselves.
Working mainly with collagraph printmaking techniques in both 2d and 3d, finished pieces have colourful tactile surfaces and often incorporate words.
From my studio near York I run courses for adults in a range of experimental printmaking techniques, encouraging confident exploration of individual approaches and styles. I also run community projects, where practical creative activities become a focus for conversations and developing new ideas.
I am particularly interested in working in collaboration with museums, archives and heritage organisations and enjoy the model of artist residencies as a way of getting to know a specific place and understanding what it means to the people who live and work there.
Here is a
short film
of me in the studio inking up and printing a collagraph plate.
If you would like to contact me about anything in this website please
click here